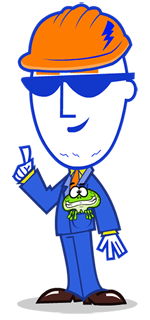 Sure, there are plenty of opportunities during good economic times, but what about more challenging ones?  What business is guaranteed to thrive, no matter what the economic climate?
None, of course.  But one thing IS certain—the government, the construction industry, and major corporations will always need the goods and services supplied by small businesses to keep their operations running smoothly.  That's where procurement comes in.
Procurement means providing those essential goods and services that these sectors rely on, be it cleaning staff, office supplies, heavy equipment…the list goes on and on.
Nelson Nigel built his business on his dealings with large companies and government agencies.  In 2010, he founded Head Exposed as a way to share his knowledge by offering easy-to-understand, reliable and effective content about the procurement industry. The information in these ebooks is based on Nelson's years of experience in the field.
Head Exposed gives you the tools necessary to navigate the complicated and often confusing landscape of the procurement industry. We offer a way to help secure your financial future through our carefully researched, time-tested content and thoroughly up-to-date downloadable materials.  Our vision is for an environment of healthy competition that encourages inventiveness and maximum productivity.
We know you work hard to grow your successful business.  Let Head Exposed work for you:
helping secure the financial future of your business through procurement opportunities
making procurement accessible to small and medium enterprises (SME's) and start-ups
sharing best practices and industry standards as done by major corporations.
Our methods:
releasing free content concerning procurement news, business trends and up-to-date information on best practices
offering premium content on effective procurement engagement, including valuable databases with valuable information for your business
creating free and reasonably-priced downloadable materials such as white papers, manuals and courses designed to enrich your learning experience.
And Head Exposed is evolving.  In the works is PROOKURE.COM, a central database for the procurement industry customized according to geographic location.  It will serve as a business-to-business listing, connecting vendors and clients—corporate, governmental, and within the construction industry—on a global scale.
Let Head Exposed give you the guidance you need to start or develop your procurement enterprise.