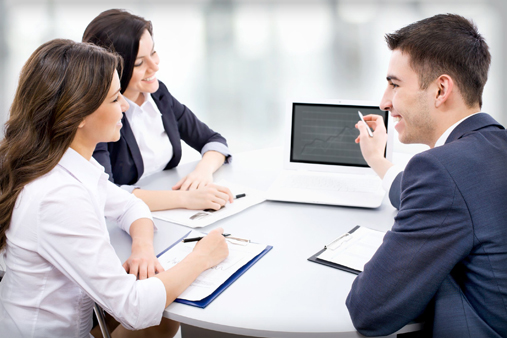 You're inspired by an idea and you decide to go into business. Bravo. That's the first step already. It's easy, but planning and hard work are soon to follow. Before diving right into the actual business plan writing aspect, you need to get into the right frame of mind and make an assessment of what you envision your overall business to be like. When someone asks you, "What is your business plan?", you should be confident and know what to answer. Look at proven business plans or sample business plans for small businesses online to give you an idea of how you can plan your business the smart way.

Writing Your Business Plan
1. Begin with an executive summary
The executive summary is the most important section of a business plan. It's the first part that readers would see, and the last part you should write. That being said, you should make every word count. Information should be brief and concise. An effective executive summary briefly gives the reader an idea of what your business is, where you want to take it, and the value of your business idea. It covers the following:
For established businesses
Mission statement – Introduce your business and what it's all about.
Business information – State basic facts: when your business was formed, names and roles of the founders, business location, and number of employees.
Business growth – Provide specific examples of growth such as financial or market highlights. Use charts and graphs to illustrate growth. The purpose of this part is to show potential investors your business' strengths, key achievements, and potential for growth and success.
Products or services description – Describe the products and/or services you provide.
Financial information – Provide information on your current bank and investors. This part is important especially if you're seeking financing.
Future plans – Provide a brief explanation of the direction you want your business to take.
For startup or new businesses
Since you're still a newbie, you won't be able to provide as much in depth information as an established business. What you can do instead is to rely on your background, experiences, and decisions that have led you to this particular venture. This is also the part where you convince readers that you know your market. State the need or problem in your target market and how your business idea provides solutions to the problem. The tone of your writing should be positive all throughout and affirm readers that your idea can succeed in the market. Lastly, close your executive summary by providing a peek into your future plans.
2. Describe your business
This part covers a more in depth review of the different elements that make up your business. Think of it as the most important sales pitch you'll ever do in your life—the closing of a sale depends on how effective you present your product or service. In this case, the business description provides you an opportunity to snag a potential investor for your business idea. Accomplish the following in your company description:
Describe the nature of your business and the market needs you aim to satisfy.
Explain how your products and services meet the needs you stated.
Provide a list of your target market including specific consumers, businesses, or organizations that your products or services cater to.
Explain the competitive advantages of your business and what makes it successful such as an ability to bring value and convenience to customers, prime location, efficient operations, or outstanding employees.
3. Provide a thorough market analysis
Here comes the nitty-gritty part. The purpose of market analysis is creating a market profile to show readers how well you know your industry and target market. This is also the part where you share additional research, findings, and conclusions from any tests you made regarding your business idea. Provide charts, graphs, and other illustrations that can help back-up your statements with clear logic. Market analysis covers the following elements:
Industry description and outlook – Describe the current environment of the industry you're part of—its current size, trends, characteristics, and projected growth rate. Include a list of major consumer groups within your industry.
Target market information – Narrow down your target market and describe it. Do not try to appeal to too many targets all at once, or you might find it hard to manage.
Distinguishing characteristics – State the demographics of your potential consumer group and their locations. Explain their needs and whether or not they're being met. Indicate if there are cyclical or seasonal purchasing trends that may impact your business.
Primary target market size – State the size of your primary target market and illustrate the forecasted market growth for your consumer group.
Potential market share gain – State the estimated market share percentage and number of consumers you aim to gain in a specific geographic location. Provide sound explanations for your projected calculations.
Pricing and gross main targets – Define the pricing structure you'll use, gross margin levels, and possible discounts you can utilize.
Competitive analysis – Identify your competition and list their characteristics. It's like building a profile of your potential competitors in the industry. Classify them by product or service lines.
Regulatory restrictions – Indicate governmental or consumer regulatory requirements that may affect your business if any, and how you'll comply. Also indicate how complying with the regulations affects your business.
4. Discuss the operations and management plan
This section discusses the organizational structure of your company, ownership details, plus the profiles of your management team and board of directors. You should accomplish the following:
Go into detail of who does what specifically in your business. This includes names of your people, their backgrounds, qualifications, roles and responsibilities, why they fit into your company, and what they can or do contribute to your business.
Create an organizational chart with a narrative description alongside so that readers could follow.
Provide ownership information details. State clearly whether your business is a corporation, partnership, or sole proprietorship.
5. Describe your product or service line
Go into detail about your product or service line, and emphasize its benefits from the point of view of a consumer. Include the following details:
Consumer needs your product or service addresses and how it does that effectively
Advantages of your product or service over your competitors
Current development stage and a prototype for products
Intellectual property rights information
Pertinent legal agreements like nondisclosure agreements or trade secret classifications if any
Research and Development (R&D) activities and plans
6. Discuss marketing and sales strategies
This section defines your marketing and sales strategies and requires you to be very thorough. There is no single right approach in marketing. Whatever you come up with should fit into what your company is and what it does, and should be continually subject to a business evaluation process to determine whether it is effective or not. A comprehensive marketing strategy contains all these elements:
Market penetration strategy – Addresses how you can effectively enter the market
Growth strategy – Includes opportunities for business growth and development like increasing human resources, branching out or franchising, and business acquisitions
Communication strategy – Includes the tools and tactics you can utilize to reach your consumers more effectively
Channels of distribution strategy – Addresses how you your products can get to your consumers, whether through an internal sales force, distributors, retailers, or original equipment manufacturers (OEMs)
Only after defining and developing a comprehensive marketing strategy can you move on to defining your sales strategy. A sales strategy composes of two elements:
Sales force strategy – This involves using salespeople including plans on their recruitment, training, responsibilities, and compensation.
Your sales activities – This involves identifying your sales prospects, making a list, and prioritizing the contacts, selecting the leads with the highest potential, and identifying the number of sales calls you can make within a specific timeframe.
7. Discuss funding
Include this section if you seek funding for your business venture. Write a funding request containing the following information:
Your current funding requirements
New funding requirements for the next 5 years
How you plan to utilize the funds you will receive
Future financial situation plans in case of situations such as selling your business, buyout, acquisition, or debt repayment.
No matter how brilliant your idea is, if you don't make business plans the smart way, it would amount to nothing. By planning your business, you get the guidance you need to move from one step to the next. It helps you to be thorough, strategic, and allows you to focus on the important things that can ensure the existence and success of your business.